Imagine the scene. You're traveling, staying in a hotel with really shaky Internet access (Or one with no Internet access) and loading Netflix or another video service of your choice isn't going to happen. What do you do? Suck it up and watch commercial-laden cable while dreaming of your DVD collection at home? NO! You use Jon's Personal Portable Netflix solution! For less than $100, you can take your DVD collection with you. Here's how.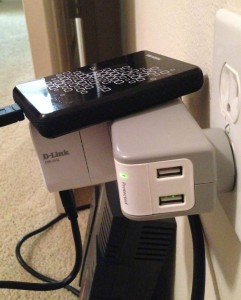 What you need…
There is a bit of flexibility around this – the pictures I'm using and steps I'm describing use the hardware I've discussed above. However if you want to use something different, be my guest!
Steps
The first part is perhaps the longest and most intellectually numbing: Rip your DVDs from their physical form to video files that you can store on the USB memory stick or hard drive. I suggest doing this over a few weeks leading up to your trip, otherwise you might find yourself tethered to your computer in the days leading up to your trip. I find 1 DVD of TV Shows or a movie takes about an hour to rip on my computer.
Move all of your ripped DVD video files to the USB Storage.
Unpack and follow the quick start instructions with your mobile router. The mobile router I'm using has a DLNA server built-in, and a nice USB port for me to plug my giant hard drive in.

D-Link DIR-505L, side view

D-Link DIR-505L, Bottom view. From left to right: USB port, Reset button, and Internet/LAN CAT5 connector

I should note that I really can't say enough about the DIR-505L: For a very affordable price, it's packed with features and if all you require is a mobile device charger, it can do that too (Even charging a full size third-generation iPad).

[important]One tip: If you use the DIR-505L only while traveling, you may accidentally set up a configuration / password / setup that you later forget. I'd recommend traveling with a SIM removal tool, like the one below, in case you'd have to reset it back to factory standards (Or, you know, eject a SIM card – really SIM removal tools are kinda great for a lot of purposes – you can buy 10 them here for less than $3

SIM Card Removal Tool on a Nite-Ize S-Biner

[/important]

I'd recommend installing D-Link's SharePort application for the most seamless setup, although you could use any software on your desired platform that can stream from a DLNA server.
Fire up the router and let it boot up (on the D-Link the light turns from red to green when ready)
Conclusions
There you have it – pretty simple and very effective. Setup in your hotel room (or anywhere for that matter) takes about 1 minute, and all of the parts fit nicely in even the smallest carry-on bag. Never be held hostage by the Internet again, and enjoy all those DVDs sitting on your shelf!
Disclosure: I received no compensation for this review. All hardware discussed was purchased at full retail price by the reviewer.