About 3 years ago I started wearing a Fitbit fitness tracker. A year or so later I upgraded to the Fitbit Ultra, and then in October 2012 to the Fitbit One. This last November I bought a Fitbit Force. While I've been generally happy with the Fitbits I've had, for reasons both hardware and software, the 2014 Carbon Steel Basis health tracker tempted me into buying it (Well that and the fact I'm a Smartwatch enthusiast, so I can kill 2 birds with 1 device). I've worn both simultaneously for about a week now, and aside from looking pretty funny, I have come up with some conclusions when it comes to accuracy, software ability, tracking ability, and appearance. Let's dive in!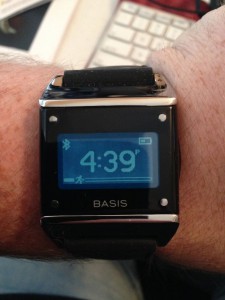 Hardware: Pretty and Sleek versus Nondescript
The 2014 Carbon Steel Basis is, like its name suggests, a pretty nice carbon steel piece of wrist wear. It sports a not-too-flashy steel bezel, with 4 metal contact 'pins' at the top to cycle through various menus or to toggle on the backlight (The backlight on the Basis will turn on automatically if it detects movement – similar to the way my Pebble tries to figure out if you're looking at it so it knows to light up. The Basis is more sensitive than the Pebble though, often lighting when I don't need it). The only button on the Basis, on the right side, is used to kick off a Bluetooth sync with your smartphone or other Bluetooth device. Normally I'd think this was a bit of a waste of a button, but the capacitive pins at the top really do a great job of getting me into the menus and data on the device. The Basis is stylish and at a glance appears to be an ordinary watch., however the back holds the secret sauce: metal contacts used to measure skin conductance, heart rate, and skin temperature. For a data geek, that's pretty cool to look at!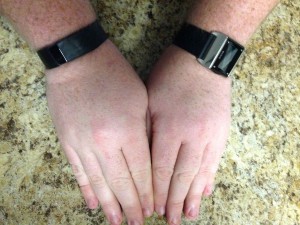 Whereas the Carbon Steel Basis is sorta flashy, the Fitbit Force strives to be fairly nondescript. Looking like your generic rubber bracelet, it has a tracker brain that's non-removable, as opposed to the older Fitbit Flex model. Similar to the Basis it has just 1 button, on the right, which you use to cycle through the time, steps, floors climbed, alarms, distance traveled, and number of active minutes. A good use of the size and screen, but slightly less impressive when on the opposite writs as the Basis! Still, it's small enough that I can pop it off and place it in my pocket temporarily if I like, and the strap is surprisingly long considering Fitbit's own sizing guide told me it wouldn't fit me. After a few days use, my giant wrist fit just fine – even with the device buckled into the 3rd & 4th snap holes from the end. A nice bit of stretch compared to the first day when it just fit.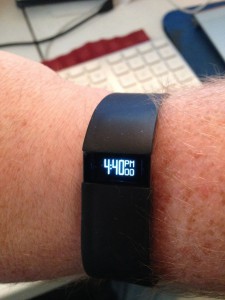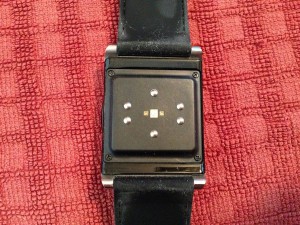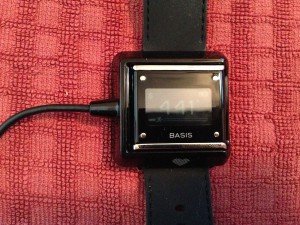 Reporting & Accuracy
I wore the Basis and the Force for 24 hours this Tuesday (i.e. didn't have to take them off for any reason – neither are waterproof, although the Basis is at least "water resistant"). As you can see from the graphs below, they had a different opinion of what I actually did.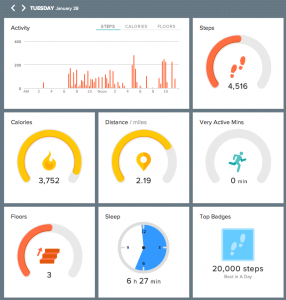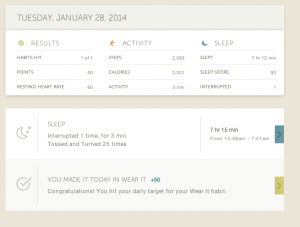 First the stats. The Fitbit Force told me that I walked 4,516 steps (admittedly Tuesday was sort of a lazy day), burned 3,752 calories, walked 2.19 miles, had no active minutes (lazy!), climbed 3 floors, and slept for 6 hours and 27 minutes. The Basis was a bit more conservative on all counts. It told me that I walked 2,583 steps, burned 3,321 calories, and slept for 7 hours & 12 minutes.
So which is right about the steps? In semi-controlled tests I found that if I walked 100 steps, the Fitbit would instantly show about 100 more steps on my counter. The Basis seemed to lag in updating, suggesting to me that it uses different ways of measuring a step, in some sort of approximation. This would also explain the lower calorie counts – even though the Basis knows my height and weight the same as the Fitbit, it seems more tuned to look for high energy activity while subtly underweighting day-to-day activity. Given that the Basis software is much more goal-oriented than Fitbit (seeking to help you establish habits of physical activity), this doesn't surprise me much. However in the end, I feel the Fitbit might be a bit too optimistic, while the Basis is a bit too conservative.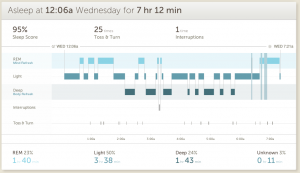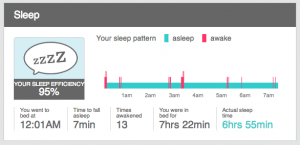 When it comes to sleep, both the Basis and the Fitibit gave me a score of 95 for the night (I got an A in sleep!). In order to start tracking sleep with the Fitbit, one must press and hold the large button on the side until the device vibrates and begins a timer. The Basis automatically detects when you're sleeping, which is why the Fitbit gives you the "you were in bed for" number (your start/stop times) and an "Actual sleep time", calculated as the amount of time you were sleeping and not restless or interrupted.
You'll notice that the tracking abilities of the Basis are much more comprehensive in sleep than the Fitbit. This was actually one of the reasons I bought the Basis – I wanted to know more about my sleep patterns than the Fitbit could tell me. It's interesting to me to see the amount of time I spend in REM, Light, and Deeper sleep, and given the heart rate, conductance, and temperature sensors of the Basis, it feels capable of giving this information. Not sure how I'm going to go about getting more deep sleep, but at least now I know approximately how quickly I cycle from sleep state to sleep state.
Software Backend
When it comes to the synchronization software, both the Fitbit Force and the Basis share a few common points.
Both come with a USB charger which doubles as a hardware sync cable if needed. However both…
Synchronize via Bluetooth to a Bluetooth 4.0 cell phone or device. In practice this means the sync cables are normally just 'charge' cables. I tend to keep both in a bedside drawer, and I charge both as needed while reading in bed at night.
Both connect up to their respective websites, where users view their data. Users can set goals through the websites as well.
Both have iOS applications that allow you to view your data on your phone.
However there are some subtle differences…
Whereas the Fitbit software allows for calorie tracking, the Basis software does not.
Whereas the Fitbit ecosystem allows for third-party apps (like MyFitnessPal),  third-party devices (like other trackers), and third-party data storage (like copying all data to Microsoft HealthVault), the Basis software does not include any of these features (A major bummer for me!)
Whereas the Basis software focuses on goals and building new habits, the Fitbit software functions at it's core as simply data viewing and analysis. The Fitbit website does have a "Premium" option that will allow you to see more detailed reports and access trainer recommendations, it requires an additional monthly fee.
Whereas the Basis software syncs on demand (you kick off a sync by pressing the button), the Fitbit software defaults to background sync periodically. This can be turned off, but when turned on it allows the Fitbit to give you periodic encouragement (i.e. a message on your phone telling you that you just need a few more steps to reach your goal.
The Fitbit has a cool silent alarm feature which will vibrate to wake you up at a prescribed time in the morning. This lets you wake up without disturbing your partner. The Basis lacks this functionality.
The Fitbit Force takes 1-2 hours to charge completely, whereas the Basis can take up to 4 hours.
The Fitbit Force battery lasts approximately a week without charging (or longer) – the Basis gets about 4 days.
As mentioned the Basis has sensors for heart rate, skin conductance (perspiration) and skin temperature.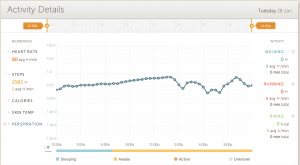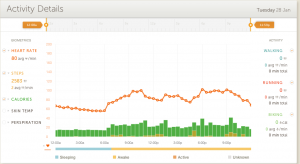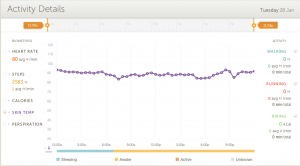 Conclusions
I bought the 2014 Carbon Steel Basis, which retails for $199, to get a better understanding of my sleep and to get the additional data it's sensors allow. However I was pretty disappointed in the lack of backend synchronization to other services (like HealthVault) and lack of alarm feature (which something that looks like a watch typically has!). The Fitbit Force, though, seems a bit too optimistic in activity and too basic in sleep analysis. Having to tell it when I go to sleep is also a pain – some nights I forget to press and am forced figuring it out via my activity drop off (The Fitbit website will let you manually add sleep sessions in, and then categorizes them appropriately).
So what do I recommend? If you're a casual data tracking enthusiast (Or fitness buff), The $129 Force will likely do everything you need it to do. If you want the additional data of the Basis, you are giving up a substantial ecosystem for one that, while the same age, has lagged in features. You're also gaining a bit more conservative estimate of your activity, which might be very helpful in getting an accurate picture of the calories you're actually burning.
As for me, I plan on using both for different purposes. For everyday wear, I think I'll stick with my Fitbit Force. However the Basis is pretty nice to understand my sleep patterns (I could see using it during periods when I'm really stressed to figure out how to better tune my sleep cycle – sleep with certain pillows, sleep longer, shorter, etc…), and I think the Basis ecosystem has ample room to grow. If they added an alarm & HealthVault sync, I'd be on it 24×7 without a problem.
Bottom line: Both are remarkable advances in understanding the data of your own body. However for the additional $70, you really need to want a Basis to justify it.
Disclosure: I received no compensation for this review. All hardware discussed was purchased at full retail price by the reviewer.