About 9 months ago, when we switched carriers, Karey got a second phone number that was local to Shreveport. She hardly ever uses it, since her regular number was ported to Google Voice. However for MMS messages (does anyone even call them that anymore? Picture messages?), she has to use the Shreveport number, since GV doesn't support MMS.
From the beginning she's received 'wrong number' SMS messages from many places – the former owner of the number signed up for a number of text services, non-paid, and apparently the number wasn't out of service long enough for some of those to lapse. Mostly harmless, occasionally funny, and occasionally annoying. From these we've reconstructed a bit about the former owner's past, including his name, approximate age, etc…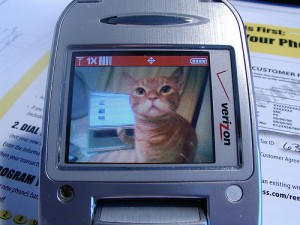 And apparently he was a hit with the ladies – Karey received a random sext a few months back. What amazed me was that it was just the picture – no "establishing" text message to make sure that this person, who hasn't had the number in 6 months, was still at the other end. I guess it is more shocking to throw the picture first and hope it starts the conversation, and she was probably disappointed that Karey didn't reply.
Today a Facebook friend posted that she received a random sext as well. It got me wondering – have we become so deluded by the seemingly one-sided interaction with a cell phone that we forget that when a photo is sent, it is presumably seen by another human? Perhaps not the intended one. I'm pretty sure that if Karey were to meet her sextmirer in real life, the other woman wouldn't immediately offer to undress, yet she's got no problem doing so via phone. It makes me wonder – are those who randomly sext even embarrassed when they find they've made a mistake? Or are those so comfortable with their bodies to send them out also immune to such emotions?
Anyone else have a Random Sext? Or has a friend who randomly sexted? Anyone else annoyed with the word 'sext' in general?