I'm a professor most of the time (as Professor Anonymous might say, a professional professor professing), however with the final grades for Spring term due today, I am officially released from teaching until the fall (Well technically I would be if I didn't choose to offer a class this summer, in June). As someone who plans their schedule around meeting with classes (I have a colleague careful to never say he teaches, as he has no idea if learning actually happens – all he knows is that he meets class often), my schedule now has just a few regular research meetings per week. Nothing too taxing. So what does a resting professor do?
Stumble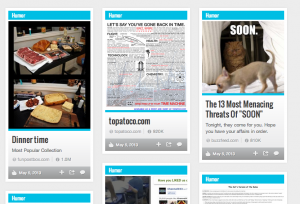 I tend to spend a bunch of time on StumbleUpon, mostly in the humor category, although occasionally I venture out and learn something. Here's what I've liked lately.
Mess Around with Different Services
Some of these are because I'm thinking of using them in class. Some are just for fun. Others are somewhat pointless. Here's the stuff I've played with for some/no reason (All are free, because well, I'm cheap):
Credly – to give badges to my students.
Tiny Tiny RSS – to have my own hosted RSS feeds
Socrative – to conduct in-class polls
A couple of WordPress plugins: NextGen Gallery & Better WP Security
Research
So the life of a professor doesn't stop when classes are over. I'm still actively working on various research projects with people around the world. They're happy I have more time, and honestly I am too. Why? Because when you have a lot on your plate, you enjoy research less. For example, one of the most time consuming, yet most enjoyable aspects of research, is experiment creation. Not the high-level "What should we manipulate part" (Although that's time consuming in a different way) – but the low-level "gotta build a PHP script that does 8 different versions" stuff. I find programming fun, but not when under the gun.
So that's all I have done or planned so far on Summer 2013 – if you have any ideas or suggestions I'd love to hear them!