Karey is a big True Blood fan, and I watch it with her because it isn't that bad of a drama / comedy / supernatural show (The vampires don't sparkle, at least). Anyway, yesterday we watched 5 episodes in a row, due in part to the 'hooks' that each episode had to the next. Cliffhanger endings that lure you into watching the next installment. On a DVD this isn't a big deal (Or on Netflix or Hulu, for that matter). But when originally broadcast, we'd be waiting a week or perhaps more. We both agreed that we wouldn't watch the show on TV simply because it would annoy us to have to wait a week or more to see the (often) 10 seconds that is the 'end' of the scene or moment.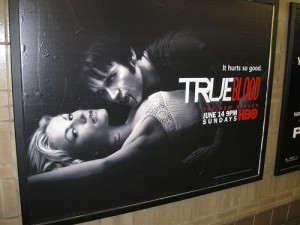 Obviously network broadcast revenues aren't as good as they used to be, and HBO is making money if I buy the DVD. However wouldn't they make more if I enjoyed the show enough to watch it AND buy the DVDs? Syfy does this one better by having cliffhanger endings and then making you wait, sometimes over a year until the next season starts. And don't even get me started on "mid-season breaks". About 8 years ago Karey & I ditched a show on ABC that would tease "Tune in for the exciting conclusion on <3 weeks later>".
So what do you think? Is this tactic of "drawing out" the resolution to a scene (not even a plot line, but a specific scene!) helping a struggling industry right the ship? Or is it showing just how disconnected executives are from what people want in an entertainment venue?