A few months ago I realized that I had a number of blogs that I liked reading, but rarely had the time to read them while scrolling around Google Reader. So a plethora of stars ensued, to keep things for "later reading".  This wasn't ideal. I also found that I really liked viewing daily "picdumps" from various websites, for quick humor in the evenings. But some days I'd run out, and other days I wouldn't get to them at all. Also not ideal. Finally I came up with the solution: Put it all in Pocket (Formerly Read It Later)…. and put it in automatically! 
Step 1: Make a Super Feed!
The first step is to make a Super Feed – an RSS feed that combines multiple other feeds together. In my case, I wanted to combine the following, using Yahoo! Pipes:
Other blogs I like to follow but aren't updated regularly.
The picdumps that I enjoy reading (From BannedInHollywood, Pleated-Jeans, and Izsmile)
I have the feed filter a few things out (I only want things from the Picdump sites that say "picdump" in the heading) and truncate to avoid the pipe taking forever to process. Here's a screenshot of the pipe: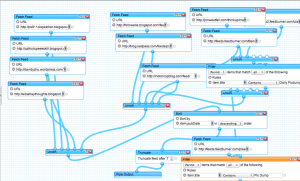 (And there is more offscreen). Once you have the pipe running and all is well, grab the RSS link for it from its pipe homepage:

With RSS URL in hand, we had over to IFTTT.
 Step 2: Automate using IFTTT
IFTTT has two channels that we're going to marry: The Pocket Channel and the RSS Feed channel. If you're new to IFTTT, all you have to do is sign up for an account, activate those two channels, and then create a recipe that looks like this: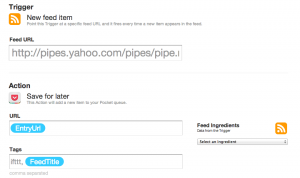 Step 3: Enjoy
After it's all hooked up, you can remove the feeds you've put into Pocket from Google Reader, and know that you'll get all of your friend's updates without a problem, available whenever you pop open Pocket on your device of choice. Plus if you like picdumps (or any other features), you can build up a nice repository for them that you can use for weekend or nightly reading. Never miss a thing, and avoid the overwhelming feeling of 95 starred items in Google Reader!