So if you've been following me on Facebook (and at times, Twitter) you've seen this photo:
Which I took in April of 2009. In case you care, the 12 devices from left to right are listed below, in italics if they've since been sold:
Top: iPaq 6915, Treo 750v, T-Mobile Dash, i-Mate Jasjar, HTC TyTN II, i-Mate K-JAM, Motorola MPx 220
Bottom: T-Mobile G1, Samsung Omnia, HTC Touch Pro, Pantech Duo, Pantech Matrix Pro
Anyway, with many of the devices now sold and replaced, I figured it was time to update that photo, so I bring you the 2011 Version of Jon's Devices: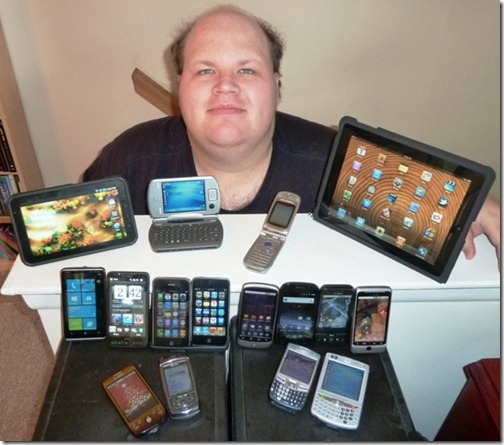 Top row: Samsung Galaxy Tab, i-Mate JasJar, Motorola MPx 220, Apple iPad 16 GB
Second Row: HTC HD7, HTC HD2, iPhone 3GS (8 GB), 2nd Gen iPod Touch (8 GB), Google Nexus One, Google Nexus S, T-Mobile G1, T-Mobile G2
Third Row: T-Mobile MyTouch 3G Fender edition, Pantech Duo, Treo 750v, iPaq 6915
And the scary part? Not pictured is the MyTouch 3G, T-Mobile Touch Pro 2, and Dash 3G that I owned and sold in the interim

So there you have it – for those of you who have asked how many phones I have, the count right now is 13 GSM phones, 2 tablets, and an iPod Touch for fun. Why do I need so many? Well simply because I like playing with them, and collecting them has become a fairly interesting hobby in and of itself. The real question is, like the JasJar, MPx, Duo, Treo, and iPaq: Which ones will I have in another 2 years?