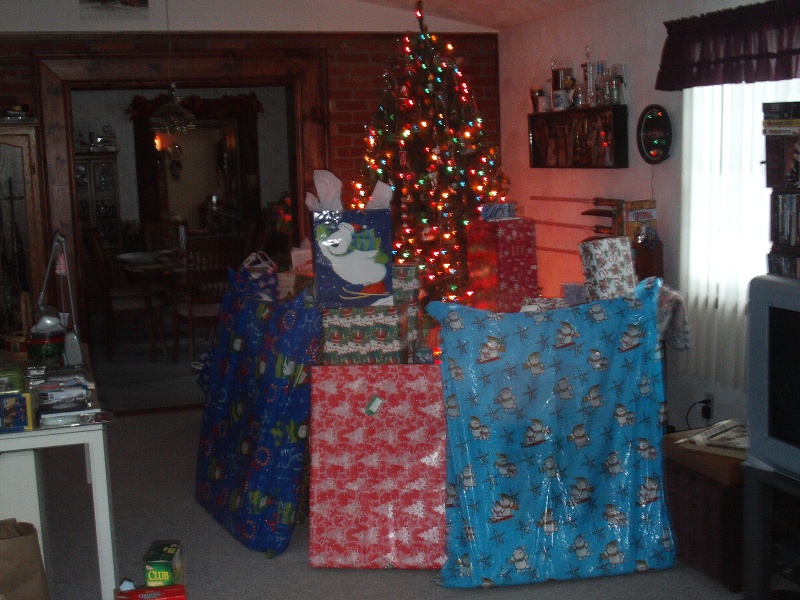 Merry Christmas!
I'm writing this from Karey's parent's house in Burgettstown, and while they are wonderful people in every respect, they are not early birds – even on Christmas. So it's 10:11 AM and the plethora of Christmas gifts are still unopened, and Karey & I are the only two awake in this house of 7. The aforementioned plethora of gifts (as shown above) will have to wait!
I wanted to take a moment, however, and write this post to say Merry Christmas to the many people I hang out with, work with, and talk with over the year. While I know some of the people below don't celebrate Christmas proper (as they observe different religions), I'm hoping the message of peace and love will be received by all.
Merry Christmas to my parents, Al and Dianne, and Lily the troublemaking cat and Mr. Bird (A parakeet who, in bird years, is the most senior of us all). Thank you for simply everything – I can't say more!
Merry Christmas to Karey's family, Dan & Sue, Greg, Scott, and Mark. I couldn't ask for better in-laws! Also Merry Christmas to Karey's Aunt Maryann and Uncle Bob (And Mandy!), and my Aunt Lois and Uncle Bud for coming to my graduation!
Merry Christmas to my friends, co-workers, mentors, advisors, assistants, collaborators, followers (and followed!), and a plethora of people that come to mind as I sit here on Christmas Morning. They're listed below, in no particular order, and of course my Christmas Greetings and wishes are extended not only to them but also their family & loved ones:
Steve Jocke
Tony Rylow
Erika Rylow
Maria Gaglio
Marie Batteiger
Michael Batteiger
Jason Dunn
JD Jasper
Eric Johnson
Elke Weber
Martine Baldassi
Bernd Figner
Annie Ma
Julie Zelmanova
Ye Li
Ariana Garrote
Ashley Newman
The grad students left at U of T – you guys will be done sooner than you think!
The grad students at CU – a great group of people to work with and support!
Holly Feiler
Darius, Ed, Janak, & all the rest of the Thoughts Media Clan
Linda, Dave, Jim, & Katie Spurrier
Paul Culbertson
Mike Fosmire
Rebecca Rodriguez, Tara Reineck, and the rest of my former students at U of T!
Trella Williams
Will Loeffler
Jim Bradford
My MS MVP homies, as well as the tech writers I've worked with, joked with, and hung out with in the past year!
My CCD RCIA group at Assumption (Christian, Nester, Ana, Vanessa, Georgina, Marcos, Daisy, and Erik)
A slew of old High School friends (and teachers) who have followed me and kept up with my antics!
A ton of Twitter Followers (Yes, I suppose even the Spambots, it's not their fault they're spammy)
A lot of Facebook friends that I can't begin to type all the names of. It's following all of your adventures that makes me feel more connected to my past, present, and future goals!
The random people who read JonWestfall.Com and the actual humans who have posted comments!
And lastly, to anyone I've forgotten and even complete strangers (Yes, I'm covering my bases here!): MERRY CHRISTMAS!
Well, I hope that about wraps up this post. Now it's off to motivate some Himmels to open presents and enjoy the day!