Lifehacker recently published an article detailing a few ways to help remember the things you actually care about, as opposed to those you don't but remember anyway (such as the MVP of the 1996 All-star game). One of the little gems that was tucked in the article was the application fbCal which integrates your Facebook Birthdays and events with the calendar of your choosing. I have this now set up on my Google Calendar and am extremely happy as it's A) always up to date and B) putting information where I'll actually look for it, not where I don't look (e.g., a sidebar on facebook.com)
To get it set up, all you need to do is install the fbCal application to your facebook account and allow it offline access (So you'll have two prompts to hit "OK" to when installing):

Once it's installed, you can then choose how to export your calendar. The tool exports in the standard iCal format, so it's easily imported into desktop PIMs like iCal on the Mac and Outlook on the PC. It not only includes birthdays, but can include events as well:

Since I use Google Calendar, I clicked on the Google Calendar link and was taken to my calendar, then asked if I wanted to add the new fbCal calendar to my list of calendars. It adds as a shared calendar, which means that it will automatically update whenever I add a friend (Or I guess if a friend changes their birthday!). It gave a very long and annoying name to the calendar, so I changed that by drilling into settings and changing the name:

Now on my Google Calendar main page, I have the FB Birthdays calendar, which I can toggle on and off as desired: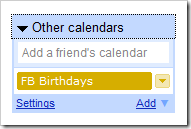 All of this took around 10 minutes, and the feed took about an hour (for some reason) to show up in my calendar. Now it's working just fine and I thought it was cool enough to share here! Happy calendaring!